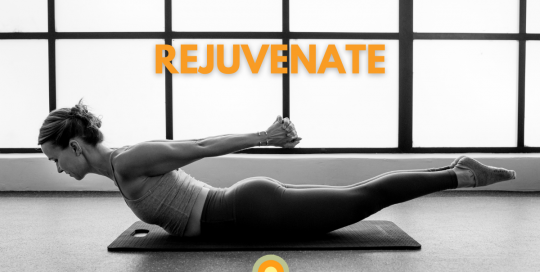 Give new energy or vigor to; revitalize.
Welcome January 2021! 
Let's just take a moment to acknowledge and be proud of having seen the challenges of 2020 through up to now. It doesn't mean that the difficult times are over but we can definitely stand in the face of all we've been through and feel rejuvenated by the fact that a NEW YEAR is finally here. 
It's because of this that in our New Year, we hope to help you cultivate ways that guide you closer towards your best version of YOU! January for us highlights taking a look at the small shifts or simple things you can do to rejuvenate your body, mind and spirit.
I am certain you will agree that the 2020 holidays were extremely different for so many of us in comparison to what we've experienced in the past. We were not alone in our experiences of  a lot less festivity, energy and connection. Over Christmas, my kids were with their Dad and I had a few days off. It's hard for me to not be with them, but I chose to embrace the time, unplug, take hikes and cook some creative, international meals. Some were inspired by The Master Class (which I highly recommend if you want an opportunity to learn from an impressive list of incredibly talented individuals). After four days of this routine, I felt completely refreshed, inspired and motivated. I was able to show up for work and for my kids in a much more present way. Because the opportunity for vacations are so limited right now, most people I know aren't taking time for themselves. If you have the opportunity I encourage you to prioritize taking some time off – completely off – even if it's just a few hours or a few days. The collective effect of how this will rejuvenate your energy and mind is exponential and will help you reset your intention moving into another (hopefully more fulfilling) New Year. 
Because of the continued stresses in our lives, radical self care, plus mental, emotional and physical health I believe must be our number 1 concerns right now. Here are a few simple ideas and suggestions on how you may begin to rejuvenate your mind, body and soul.
Find a space that can be your meditation or your intention setting, relaxing space. Make this an area that feels good to be in so that it supports you in being alone, quiet and introspective. I love the corner set up in the (very empty) studio to either sit quietly, move my body, or to simply have a few moments to myself. Taking time for me, even if it's just a couple of moments between Zoom calls is an amazing way to release the tension that builds up in my life and help me be more present. 



Take a bath! This is one of my favorite ways to unwind and to help heal my body when it feels overworked. Here are my two go-to CBD soaks.
We've put together 21 days of simple steps (like drinking more water or scheduling our workouts) to support you in focusing on yourself this month from January 11th-31st. It's a list of ways for you to prioritize your health and well-being in small, accessible doses. You can do this through some of the local Studios or get all of the daily tips on instagram by following The Dailey Method. There are a lot of options out there right now for challenges of mindfulness or fitness. Find something that inspires you to commit or holds you accountable to creating a new daily practice -the most important one- self care. Because we should do this every day. We're worth it!
It's not a resolution- it's a commitment to you. Because we all know that when we focus on ourselves, our health, wellbeing and happiness, it reflects in our abilities to show up for our loved ones, our jobs and anything that life throws our way.
Here's to a Happy and Healthy New Year (with less things thrown our way)!
I Love You
Jill