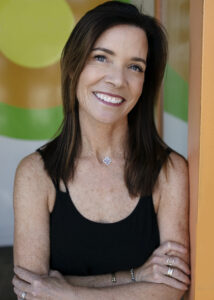 Our October Flagship Studio Highlight is TDM-Piedmont.  Susan Willrich opened the Piedmont studio in 2005 and it was the first TDM studio in the East Bay.  Learn more about Susan and her 17 years of studio ownership.
Dance classes of all kinds–ballet, jazz and modern- were always part of my routine since childhood. And yes, of course, you found me at any available aerobics & step class in college. Bikram yoga became my post-college/young professional fascination. Teaching was always in the back of my mind, but somehow I never found a way to make it happen alongside my career in accounting & financial software.
Fast forward to the "new mom" years, I was struggling with finding connection to my body again in a way that felt engaging & effective. Like many of us, a close friend encouraged me to join her for a Dailey Method class. That very first class (at the Corte Madera studio!) completely won me over. The magical combination of Dailey had me humbled, but in the best way. I respected the challenge of the Method, but also its intelligence, fun & support. As I progressively grew stronger & more confident in my practice, I begged Jill to open a studio in the East Bay (where I lived, yes it was a
ridiculous commute to Marin.) That's when we hatched the plan to open The Dailey Method Piedmont.
Barre classes didn't exist on our side of the Bay when we opened in 2005. But fortunately we have an amazing community of curious, intelligent, strong & supportive humans who quickly embraced it. I was also blessed with a powerhouse team of instructors that became like family. One of those instructors, Kerry Corcoran, agreed to partner with me on our second studio, The Dailey Method Berkeley. Our community of 2 studios grew in all the best ways together for the next 13 years. Unfortunately the Covid pandemic was too tough a match for us & forced us to close those doors last February.
We've re-emerged back to where it all began on Piedmont Avenue, humbled yet filled with gratitude and hope for the future. Each and every day that I step through the studio front doors (or our new Outdoor Pavilion…a Covid silver lining!), I am filled with positive energy & optimism. Let's be real, running a small business is obviously filled with loads of challenges & setbacks. I believe, however, that this place & practice arms us with a special joy & resilience. It truly is so much more than just a workout.