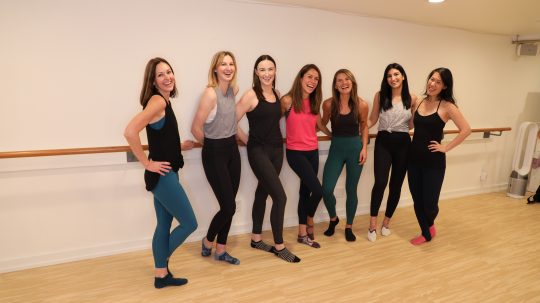 Every month of 2022, we will be highlighting one of our Flagship Dailey Method studios to give you insight into our wonderful owners and the amazing communities they have built. We are kicking off our Monthly Highlight series with TDM Cow Hollow. Meet Kiley Lucan, the 5-year studio owner, and mother of 2. Kiley took over ownership in 2017 from founder Jill Dailey, but her path to ownership started at the TDM Novato location. Read about Kiley's journey to discovering Dailey Method and her role as studio owner: 
When I first walked into the doors of The Dailey Method studio in Novato in 2010, I had no idea what I was in for. As a trail runner, I preferred doing my workouts solo and outside. That experience was my first time at a boutique fitness studio. While training for my first marathon, I heard that Barre helped with running, so I thought I'd try it out. I thought I'd breeze through class, but it was the hardest exercise I'd ever done. I used muscles I didn't even know I had and was sore for days. When I returned, I had so many questions about this practice and wanted to figure out how to do each position right. It felt like it was just what my body needed, and I left every class with a great mental and physical disposition. 
The more classes I took, the more often I wanted to come. I was hooked and adored the instructors and how hands-on they were each time. As I continued to train for marathons, including Boston, I found The Dailey Method to be the secret sauce for staying injury-free and sustainably strong. 
While I was in my MBA program and working full time in San Francisco, the studio became my happy place. I was honored when the Manager and Lead Teacher asked if I'd be interested in training to become an instructor, but I couldn't imagine myself as a teacher, so I politely declined the offer. When I finished grad school, I acknowledged that I had a deep desire to continue learning and growing in the practice and was soon given the opportunity to train under two of the best mentors and instructors. 
After I began teaching, I would find myself thinking about teaching all the time. I'd daydream about it at my office and plan my classes or curate my playlists in the middle of the night. Any spare moment I had, I wanted to be at the studio. I took the Studio Owner out to coffee and asked how her career led her to studio ownership. She empowered me and shared an opportunity to take over ownership of the Cow Hollow Dailey Method studio. Although I imagined this a distant dream, I felt I couldn't pass up the opportunity. I spent the next year securing the funding and took the leap of faith! To this day, even amidst the obstacles presented by the pandemic, I still believe that this is what I was meant to do and wake up grateful every day. 
Since owning the studio, I've met some of the most wonderful humans on this planet. I swear The Dailey Method attracts the best people. And the inner gold in our community has become especially clear over the last couple of years.
The Dailey Method's powerful practice assisted my hormone health and fertility journey, as it aided my mind-body connection. Like many of our students who are mothers, I was able to keep a consistent movement routine and teach up until the due date for both of my pregnancies. This helped immensely in both prenatal and postpartum recoveries, even after my C-section with my second child. Fellow mamas in this community have been a pillar of strength for me while undergoing fertility treatments. My husband of 12 years, Eric, and I are so blessed to have our son Noah who is now 3 and daughter, Selah, who is 6 months old!
Over the past 6 months, it feels as though I've birthed two babies, one being my daughter and the other being our new studio, which we relocated from its 20 year-long location on Greenwich street to a beautiful new spot on Union Street! We made the move when our daughter was less than 4 months old, so I honestly couldn't have done this without the support of my partner and husband, Eric. Every last ounce of my love and energy is poured into this new space. It feels fresh, clean, and new. And I feel we all need a little bit more renewal in our lives right now! I'm so excited to welcome back old friends and meet some new ones in our community at our Studio Grand Reopening on Saturday, February 12th! We'll offer free community classes all day, along with gift bags to take home, in-studio specials, and a raffle with some amazing prices we have to give away!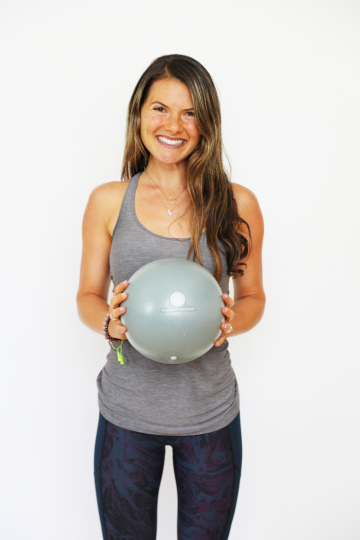 TDM Cow Hollow Owner, Kiley Lucan
History of The Dailey Method Cow Hollow
TDM Cow Hollow was the first location of The Dailey Method.  Opened in 2001 by founder Jill Dailey, the Cow Hollow location became the spark that started it all.  21 years after the inception of The Dailey Method, the Cow Hollow studio has a new home just a few blocks away on Union. Join studio owner Kiley Lucan and founder Jill Dailey on Saturday February 12th for the Grand Re-Opening. Visit @daileymethodsf for more info. We hope to see you there!