Welcome to The Dailey Method San Francisco
2118 Union Street
San Francisco, CA 94123
Phone: 415-345-9992
We're ready to help you transform your life. The Dailey Method is the fastest way to a strong, lean, sculpted body. Combining the best of Pilates, yoga, and ballet barre training, our classes are an ever-evolving mix of movement that offer extreme benefits for body and mind. Our classes are driven by fitness research and our students' needs. We offer individualized attention in a group setting to give you the strength, discipline, and joy to find ultimate alignment.
Special Offers
New Student Special - 14 Days Unlimited Classes

Two weeks of Unlimited Barre Classes at Dailey Method San Francisco location. Includes In-Studio, and Virtual classes! Can activate anytime. Expires 14 days from first class.

The gift of Dailey classes make the perfect present for your friend, family member, coworker or yourself! This can be activated now or in the future. Our locally owned studio appreciates the support immensely!

Core Membership

Our most popular and affordable package designed for our students to get the most out of their Dailey practice. The prescription for feeling stronger, and more aligned in mind and body is 2-3 classes/week. And Membership is ideal for any student taking 2+ classes/week or 8+ classes/month. Save even more on classes and receive additional benefits by signing up for Dailey Core Membership. Membership perks include:

Unlimited Dailey Method Classes (virtual/livestream and in-studio)
One guest pass per month for a complimentary barre class (new clients only)
Free or discounted access to workshops and seminars
15% discount concessions (socks excluded)
See below for more perks, requirements and restrictions

Enjoy membership benefits and unlimited barre classes at our San Francisco studio.
The most cost-effective option for any student who takes 2 classes per week! And the more you come – the more you save and notice the difference!!

Cost per class based on your number of visits/week:
3 = $16.25 4 = $12.18 5 = $9.75 (compare at single class rate $35)

Renews monthly (one month from date of activation) $199/month for annual membership. 3-month membership available for $209/month. Click "Buy Now" to see all additional terms and conditions of this special Core Membership Offer.

Classes & Packages

May be used for Outdoor, Virtual or In-Studio classes. Expires 1 month from purchase date.

May be used for Outdoor, Virtual or In-Studio classes. Expires 3 months from purchase date.

May be used for Virtual, recorder or In-studio classes. Expires one month from purchase date.
We're planning some exciting things! Check back soon for more events.
What to Expect
We are passionate about alignment. We ignite awareness through hands-on training and education. The result is better posture, better movement, and a more complete workout. Unlike a traditional large fitness class, clients receive individual education and 1-on-1 attention from our highly trained instructors. Modifications and adjustments will be given to make everyone feel successful and challenged!
What to Wear
Wear comfortable clothing that you can move in. Preferably not too loose or baggy so teachers are able to see your alignment and form. Socks are required and we sell our trademark Dailey Method grip socks at the studio.
What to Bring
We have mats and all the props you will need. Please bring a refillable water bottle to stay hydrated, we have filling stations in the studio.
When to Arrive
We suggest that all new clients arrive about 15 minutes early to their first class. This will give you a chance to meet your instructor, take a look around the studio, and ask any questions of our staff to make your first visit relaxed & exceptional.
Waitlist Policy: If you are trying to sign up for a class that is full, we highly encourage you to put yourself on the waitlist! As students cancel, students on the waitlist will be notified via email that they have been added. Reservations will be honored only up to the start of class. If you do not arrive prior to the start of class, your reservation will be forfeited to anyone on the waitlist.
Late Entry Policy: New students may not enter a class late. Returning students may enter an ongoing class up to, but not after, 10 minutes into a 60-minute class and 5 minutes into a 45-minute class.
Late Cancel/No Show Policy: We require 2 hours notice before making any kind of changes to your schedule. If you cancel or reschedule a class in the online scheduler less than 2 hours of your scheduled class, we will charge a fee of $9. If you don't show up for a reserved class, or fail to "sign in" with the front desk, you will be charged $14. If you are on a Class Pass, a class will also be deducted from that package.
Attire: Wear comfortable clothing that you can move in. Preferably not too loose or baggy so teachers are able to see your alignment and form. Socks are required and we sell our trademark Dailey Method grip socks at the studio.
Pregnancy: The Dailey Method is a very safe workout for pregnant and postpartum women. A few minor modifications make this class a very thorough and effective workout to help women look and feel their best. Please note that a written consent from your doctor is required stating that you are cleared for core strengthening exercises.
No Value (acf:field_64ff7c5a60b99)
Simply put, Dailey Method boosts my mood and strengthens my mind and body. Thank you, Dailey Method for continuing to provide challenging classes and motivating me to look and feel my best.
- Kim J.
Nothing else I've tried comes close to feeling as healthy or as effective as the low impact, slow and controlled movements of TDM.  I love the instructors, the other clients, and the warm and encouraging atmosphere. The Dailey Method has become a staple in my life and I'm so grateful to have found it.
- Julia B.
The Dailey Method has a welcoming, fun atmosphere with wonderful instructors who genuinely care about their clients.  The instructors are knowledgeable and take the time to adjust you to make sure your alignment is right. It's like personal training in a group class.
- Amy D.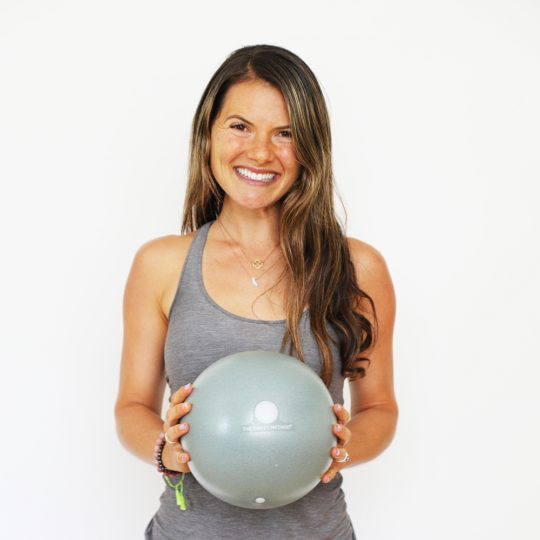 Kiley Lucan is a San Francisco native with a passion for empowering women to find confidence in their own bodies by fostering a deep connection to their strength from the inside out.
Kiley took over Ownership of The Dailey Method's founding studio from Founder, Jill Dailey, in 2016 and has been doing what she loves most ever since! Prior to working in the studio wellness space, Kiley spent over a decade pioneering marketing, communications and fundraising efforts for environmental nonprofits such as The Nature Conservancy and The Trust for Public Land as well as Women's Empowerment nonprofits including Women in Technology.
Kiley joined The Dailey Method as a student in 2010 while training for her first marathon. She was immediately drawn to the supportive community and has found the practice, mentally rigorous, dynamic and transformative. "The Dailey Method is the secret sauce to staying injury free and sustainably strong" says Kiley.
She also attributes The Dailey Method's powerful practice to assisting in hormone health and fertility as it aided her mind-body connection. During both of her pregnancies, Kiley and many other women like herself, were able to keep a consistent movement routine as students of Dailey Method, which helped immensely in both prenatal and postpartum recoveries, even after her C-section.
Kiley obtained her MBA in Sustainable Enterprise from Dominican University in 2015. When she is not at The Dailey Method studio, Kiley loves exploring new trails and spending time with her husband, son and daughter. Kiley considers it an incredible honor to guide the thriving and vibrant students and teachers in The Dailey Method Cow Hollow community!

We strive to empower individuals to become their most vibrant and authentic selves through a mind/body transformation within a compassionate and supportive community.
© 2000-2023 The Dailey Method, LLC. All rights reserved.
To provide the best experiences, we use technologies like cookies to store and/or access device information. Consenting to these technologies will allow us to process data such as browsing behavior or unique IDs on this site. Not consenting or withdrawing consent, may adversely affect certain features and functions.
Functional

Always active

The technical storage or access is strictly necessary for the legitimate purpose of enabling the use of a specific service explicitly requested by the subscriber or user, or for the sole purpose of carrying out the transmission of a communication over an electronic communications network.
Preferences

The technical storage or access is necessary for the legitimate purpose of storing preferences that are not requested by the subscriber or user.
Statistics

The technical storage or access that is used exclusively for statistical purposes.

The technical storage or access that is used exclusively for anonymous statistical purposes. Without a subpoena, voluntary compliance on the part of your Internet Service Provider, or additional records from a third party, information stored or retrieved for this purpose alone cannot usually be used to identify you.
Marketing

The technical storage or access is required to create user profiles to send advertising, or to track the user on a website or across several websites for similar marketing purposes.
Skip to content