Welcome to TDM Los Gatos Campbell



2275 Winchester Blvd.
Campbell , CA 95008
Phone: (408) 540-7084
WE ARE OPEN! We currently hold in-studio Barre, Express, Fusion, Interval and Hiit Pilates in addition to live streaming every class! We hope to see you soon!
We're ready to help you transform your life. The Dailey Method is the fastest way to a strong, lean, sculpted body. Combining the best of Pilates, yoga, and ballet barre training, our classes are an ever-evolving mix of movements that offer extreme benefits for body and mind. Our classes are driven by fitness research and our students' needs. We offer individualized attention in a group setting to give you the strength, discipline, and joy to find ultimate alignment.
Special Offers
New Client 2 Week Unlimited

2 Weeks of unlimited in-studio or virtual classes with a complimentary 30 min private and a pair of socks!  Unlimited 2 weeks starts on your first date of use.

*No holds or extensions*

2 classes for in-studio or virtual classes with a complimentary 30 min private and a pair of socks!  Expires 10 days after first date of use.

*No holds or extensions*

Core Membership

Our best packages designed for our most loyal clients. Save even more on your monthly unlimited packages by signing up for the Dailey Core Member auto-pay monthly memberships. Membership perks include:

Unlimited Dailey Method Classes
Free or discounted access to workshops and seminars
Monthly guest passes
Discounts on retail (exclusions apply)
See below for more perks, requirements and restrictions.

Unlimited Classes
15% discount on retail clothing (excludes socks/jewelry)
2 guest passes a month
Early notification for signups on studio events
Discounted fees for studio and sponsored events

Best package if a client takes more than 3 classes a week.

$189/month credit card
email lgc@thedaileymethod.com for information on ACH
No commitment
Month to month
30 Day notification to cancel

In-Studio or Virtual Classes & Packages

Expires 365 days from purchase date.
In-studio or Virtual

$28.00 per class
Valid for In-studio or Virtual classes

$26.00 per class
In-studio or Virtual
No holds/extensions
3-month expiration date after first use

Enjoy 4 classes a month for $99.  This auto-renew requires a credit card on file and renews each month.  Classes must be used within the month as they do no roll over to the next month.

Ages 2 months to 11 years
Expires 365 days from purchase date

Ages 2 months to 11 years
Expires 365 days from purchase date

What to Expect

We are passionate about alignment. We ignite awareness through hands-on training and education. The result is better posture, better movement, and a more complete workout. Unlike a traditional large fitness class, clients receive individual education and 1-on-1 attention from our highly trained instructors. Modifications and adjustments will be given to make everyone feel successful and challenged!

What to Wear

Wear comfortable clothing that you can move in. Preferably not too loose or baggy so teachers are able to see your alignment and form. Socks are required and we sell grip socks at the studio.

What to Bring

We have mats and all the props you will need. Please bring a refillable water bottle to stay hydrated, we have filling stations in the studio.

When to Arrive

We suggest that all new clients arrive about 15 minutes early to their first class. This will give you a chance to meet your instructor, take a look around the studio, and ask any questions of our staff to make your first visit relaxed & exceptional.

We're planning some exciting things! Check back soon for more events.

Wait List Policy: If you are trying to sign up for a class that is full, we highly encourage you to put yourself on the waitlist. As students cancel, students on the wait list will be notified via email that they have been added. Reservations will be honored only up to the start of class. If you do not arrive prior to the start of class, your reservation will be forfeited to anyone on the wait list.

Late Entry Policy: New students may not enter a class late. Returning students may enter an ongoing class up to, but not after, 10 minutes into a 60-minute class and 5 minutes into a 45-minute class.

Late Cancel/No Show Policy: We require a 1 hour notice before making any kind of changes to your schedule. If you cancel or reschedule a class in the online scheduler less than 1 hour of your scheduled class, we will charge a fee of $10. If you don't show up for a reserved class, or fail to "sign in" with the front desk, you will be charged $10. If you are on a Class Pass, a class will also be deducted from that package.

Attire: Wear comfortable clothing that you can move in. Preferably not too loose or baggy so teachers are able to see your alignment and form. Socks are required and we sell our trademark Dailey Method grip socks at the studio.

Pregnancy: The Dailey Method is a very safe workout for pregnant and postpartum women. A few minor modifications make this class a very thorough and effective workout to help women look and feel their best. Please note that a written consent from your doctor is required stating that you are cleared for core strengthening exercises.
"Barre" none The Dailey Method is the best overall body workout I have found. It's part strength training, stretching, barre work, and core conditioning with aspects of pilates and yoga in a setting that is both fun and energetic. You'll find each session both personally challenging and satisfying in defining a new level of fitness.
- Sue M.
Being a time-constrained working mom I find The Daily Method a great workout with quick results. It is a challenging one-hour session but the teachers are encouraging and the classes are a bit addicting because they are fun.
- Francis F.
The Dailey Method is the cure for workout boredom. My body & mind continue to be challenged by this ever-changing workout – after mastering the "basics", students improve their practice with new variations and refinements. Just when you think you've got it all figured out, The Dailey Method throws in something new to challenge you – Perfect! And because TDM engages both the mind and body, it has become my "Dailey" meditation as well. It's the one hour that I can truly call my own – the class requires such focus it is impossible to become distracted by the stresses of outside life. What about the results? After years of working on a computer, my body & posture had seen better days. I am happy to say The Dailey Method has given me back my strength & confidence, and significantly decreased my back pain. The increase in muscle tone & core strength has also improved the quality of my wakeboarding, water skiing & snow skiing – what more could I ask for? Thank you Dailey Method!
- Kathy K.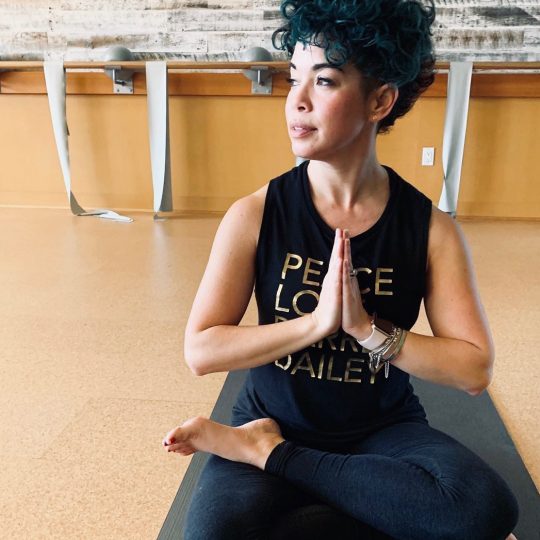 I grew up dancing my whole life and took that passion with me to Loyola Marymount University where I got a BA in dance. After college, my body needed a break, but I missed movement and was looking for something that felt good in my body and that was effective. I found The Dailey Method because it was right up the street from my job. A took a handful of classes and was hooked! I saw results quickly and it tapped into my dance background seamlessly. Before I knew it, I was teaching and loving everything about the community, how I felt and the studio as a whole. Fast forward 6 years or so and I had the privilege of purchasing the studio in December of 2017. I am extremely proud of our community, my team and what the studio represents. My family is a huge support along with my 6 year old son! When I am not at the studio you will find me relaxing, cooking or spending time with my family!

We strive to empower individuals to become their most vibrant and authentic selves through a mind/body transformation within a compassionate and supportive community.
© 2000-2023 The Dailey Method, LLC. All rights reserved.
To provide the best experiences, we use technologies like cookies to store and/or access device information. Consenting to these technologies will allow us to process data such as browsing behavior or unique IDs on this site. Not consenting or withdrawing consent, may adversely affect certain features and functions.
Functional

Always active

The technical storage or access is strictly necessary for the legitimate purpose of enabling the use of a specific service explicitly requested by the subscriber or user, or for the sole purpose of carrying out the transmission of a communication over an electronic communications network.
Preferences

The technical storage or access is necessary for the legitimate purpose of storing preferences that are not requested by the subscriber or user.
Statistics

The technical storage or access that is used exclusively for statistical purposes.

The technical storage or access that is used exclusively for anonymous statistical purposes. Without a subpoena, voluntary compliance on the part of your Internet Service Provider, or additional records from a third party, information stored or retrieved for this purpose alone cannot usually be used to identify you.
Marketing

The technical storage or access is required to create user profiles to send advertising, or to track the user on a website or across several websites for similar marketing purposes.
Skip to content